Dams to Darnley Country Park
Encompassing the greenbelt between Barrhead, Newton Mearns and Darnley, Dams to Darnley is Scotland's newest country park and is currently a hidden gem within the area.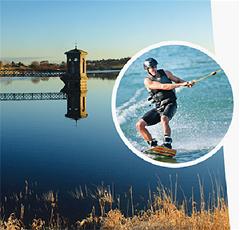 Featuring the striking Barrhead dams and interconnecting reservoirs, it is a haven for bird watchers and is rich in fascinating geology and plant life.
The ambition is to transform Dams to Darnley Country Park into a must-visit leisure destination for the 1.8 million day visitors within an hour's drive time by 2019.
Plans to transform the park include the creation of a new visitor's centre, boardwalk and water sports park. It is expected to feature a Wake Park Centre, making East Renfrewshire one of only a few destinations in Scotland to experience wakeboarding, the fastest growing extreme sports in the world.
Exciting opportunities exist with in the country park for retail, leisure and hospitality developments which could include a farm shop, restaurant, garden centre, hotel and additional sporting offers. The Invest East Renfrewshire team are open to opportunities so please get in touch to discuss.